July 2009:

Is it really the Fourth of July already?
Perhaps we were thrown by the two days of June snow we received here in Helena, Montana!

In the July edition of the Bookmark, take in our monthly features and meet Peter Fish of Sunset Magazine, editor of an exciting new California book.
The Winning Caption(s)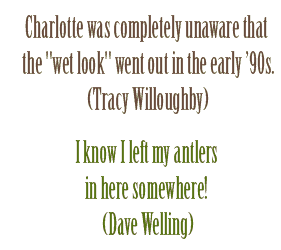 Photo of a moose by Henry H. Holdsworth, Moose of Yellowstone and Grand Teton.
Visit Henry and view his work at www.wildbynaturegallery.com.

We got so many excellent entries this month that we decided to select two winners!
Congrats to Tracy Willoughby of LaVergne, Tennessee,
and Dave Welling of Canoga Park, California.

Self-described "moose fanatic" Tracy chose Moose of Yellowstone and Grand Teton by Henry H. Holdsworth as her prize, and wildlife photographer Dave selected Yellowstone Wild and Beautiful by Fred Pflughoft.






Win Stuff!


Help! Our editors are swamped, and this photo of fox kits by Wendy Shattil and Bob Rozinski in Born Wild in Colorado is without a clever caption. Whatever will we do?

This is where you come in. Send us a clever caption (no more than 2 entries please) for this photo. If we pick your entry, we'll send you the book of your choice from www.FarcountryPress.com—as well as feature your caption in next month's newsletter.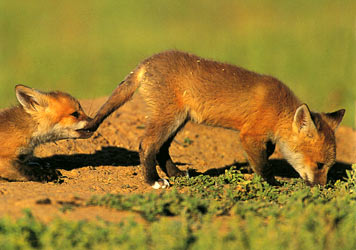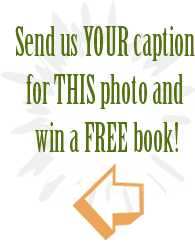 Visit Wendy and Bob and view their work at www.dancingpelican.com.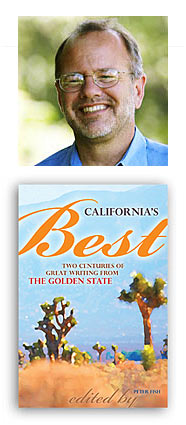 3 Questions
Meet Peter Fish, editor of
California's Best: Two Centuries of Great Writing from the Golden State
.
What is your favorite place to buy books?
San Francisco is incredibly lucky to have good independent bookstores. My two favorites are Green Apple Books on Clement Street (
www.greenapplebooks.com
), conveniently located near Toy Boat Dessert Café, so that you can take your book and read it over a hot fudge sundae; and Bookshop West Portal (
www.bookshopwestportal.com
), conveniently located near Peet's Coffee, best coffee in the world.
What are you listening to right now?
Right now I am listening to Dave Alvin's new cd titled Dave Alvin and the Guilty Women, which is great. Dave Alvin wrote "The King of California," which is, I think, the best song ever written about the Golden State.
Dogs or cats?
Dog all the way. I grew up with labradors and as soon as we bought a house we got a lab--specifically a rescue dog lab mix named Della. Della is now 11 years old. We dress her up for Christmas cards. You can see Della on her Facebook page: http://www.facebook.com/della.fish, Della is happy to have new Facebook friends. Della will be blogging about the anthology.
Peter has written and edited for
Sunset Magazine
for many years and is currently
Sunset
's editor-at-large. He lives in San Francisco with his wife, Nancy, and son, Joseph.
Click here
to view a full list of the 41 writers featured in California's Best.
Draw with Rob


To view the work of illustrator Robert Rath, visit his website at www.robertrath.net.

Check out his latest books, Bug Feats of Montana and Yellowstone's Hot Legends and Cool Myths.






Saying Good-bye


After 4 years as a designer with Farcountry, Kelli Street is taking a job with the state of Montana. We will miss her very much! Join us in wishing her the very best!




Booksellers:
It's book signing season! Our authors, photographers, and illustrators are available for book signings and other events. Promotional materials are available. Just give us a call at 1-800-821-3874.


Verbivore's Feast
High Muckamuck
What are the origins of this term frequently used to deride powerful politicians? Radio host and author Chrysti the Wordsmith explains:
Chinook Jargon is a trade language developed among natives of the Pacific Northwest. Consisting of some 500 to 1,000 words drawn from several native languages of the area, Chinook Jargon facilitated commerce between the inhabitants of this linguistically diverse region.
One lexical survivor of this trade language is the expression
high muckamuck
, or
mucketymuck,
which is a way of referring to one of elevated professional or social status. Originally, the Chinook Jargon word
muckamuck
meant, depending on the context, choice whale meat, a meal, food, or to eat or feast.
When the Chinook Jargon adjective
hayu,
meaning "big, important" was attached, the resulting
muckamuck
meant plenty of food, big feast—the kind of spread enjoyed and offered by the wealthy.
English speakers, adopting and adapting this phrase, rendered it
high muckamuck,
figuratively someone who eats well, but by extension the wealthy, powerful one—the boss. In current American English, the term
high muckamuck
or
muckety-muck
is contemptuous and generally reserved for political or corporate bigshots with an inflated sense of power and influence.
From Verbivore's Feast, Second Course: More Word and Phrase Origins by Chrysti the Wordsmith. Also available is Verbivore's Feast: A Banquet of Word and Phrase Origins.

Chrysti the Wordsmith is produced at KGLT-FM on the campus of Montana State University and is heard on Yellowstone Public Radio, Montana Public Radio, and Armed Forces Radio and Television Service.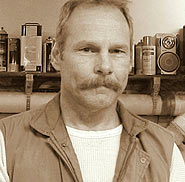 NAME: Matt Vanderwater

JOB TITLE:
Warehouse and Parcel Services Manager

YEARS WITH FCP:
15+

DID YOU KNOW:
The office jokester, Matt is also a master woodworker whose beautiful Adirondack chairs grace several Farcountry employees' front porches and decks.

New Releases

Boise Impressions
Photography by ISI

California's Best:
Two Centuries of Great Writing from the Golden State
Edited by Peter Fish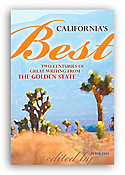 May Bestsellers
1. Who Pooped in the Park?
Yellowstone National Park
2. Born Wild in Yellowstone
and Grand Teton
National Parks
3. Who Pooped in
the Black Hills?
4. Iowa Impressions
5. A Ranger's Guide to
Yellowstone Day Hikes,
Updated Edition


Coming in August

Massachusetts Impressions
Photography by Paul Rezendes


Awards

Blue Ridge Parkway Simply Beautiful, by photographers Pat and Chuck Blackley and writer Cara Ellen Modisett, won first place in the nonfiction book category of the Virginia Press Women 2009 Communications Contest. Congratulations!
In the News

Johanna Draper Carlson of Comics Worth Reading calls Yellowstone's Hot Legends and Cool Myths by Robert Rath "entertaining," "easy to read," and "a lovely souvenir" for kids visiting Yellowstone.
Click here to read entire review.
Get Your Catalog

Click HERE for a copy of our 2009 catalog.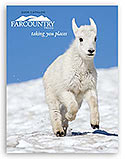 Photo by Donald M. Jones,
www.donaldmjones.com
.

Book Signings

MONTANA
July 11, 10:30 a.m.
Fact and Fiction
220 North Higgins
Missoula, MT
Author Deborah Richie Oberbillig signs her new children's book
Bug Feats
.
WISCONSIN
July 18, 10 a.m. - 2 p.m.
Backroads Coffee & Tea
10526 Dakota Ave.
Hayward, WI
Ernie Schweit and Nancy Schumm-Burgess sign
Wisconsin Barns
.

July 25, 1 - 3 p.m.
Tugger's Café
123 Lincoln St.
Augusta, WI
Ernie Schweit and Nancy Schumm-Burgess sign
Wisconsin Barns
.

We love hearing from you!

If you have anything to share related to Farcountry Press books, please send us an email at

[email protected]

.