BROWSE OUR BOOKS

FREQUENTLY ASKED QUESTIONS
What is a personalized cover?
Clients use personalized covers to promote their company, university, or organization, celebrate an event, and create unique and affordable corporate gifts for customers.
There are a couple of options:
1. We can create a special cover for virtually any of Farcountry Press's existing books on FarcountryPress.com.
2. We can take an existing cover and add your company's logo.
What is a foil stamp?
Our printers apply a die to a strip of foil and stamp the image and foil into the cover of your book. You may provide a logo, text, or other image and our printer will create the die. You select the color and location of the foil stamp. Minimum quantities apply. Call for details.
A more economical option is a label or sticker. Call for prices.
What is a tip-in sheet?
A tip-in is a sheet of special paper or vellum that can be printed with whatever image or text you would like and is tipped into, or attached to, the book, usually just before the title page. Clients use tip-in sheets to personalize books for customers, provide a history of the company or organization, or detail a special event related to the subject of the book. Content subject to approval.
How is a foreign-language version created?
A translator will translate the text of a Farcountry Press book into the language of your choosing. We then will place the new text into the layout, allow you to proof the layout, then print your quantity of books and deliver them to you.
Personalized books make outstanding gifts and promotional tools. We can personalize virtually any of Farcountry's photography books for your business or event.

Our designers can create a personalized cover, add a foil stamp or label, or create a tip-in sheet with your company of event's logo or special message. We can also produce foreign-language versions of almost any Farcountry Press photography book.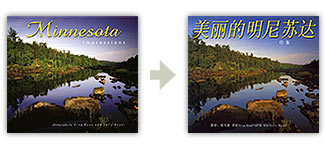 Minimum quantities apply. Contact us at 800.821.3874 for more information.



HOW TO PERSONALIZE A BOOK:

1. Go to FarcountryPress.com and browse the selection of books.

2. Note the book you want to personalize.

3. Determine how you would like to personalize your quantity of books (personalized cover, foil stamp or label, or tip-in sheet).

4. Contact us at 800.821.3874 to discuss your needs with one of our sales representatives and receive a free quote and consultation.